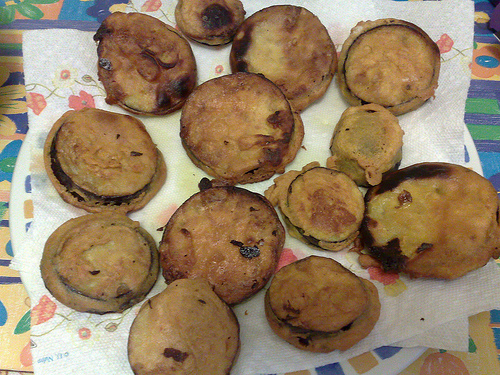 Deep fried snack
Recipe by Lata Anand of Santa Clara, US
A popular evening snack
Ingredients vegetarian
4 servings
1 cup Gram flour 2 tsp Garlic (paste) 1 tsp. Turmeric powder 1 tsp Red chili powder 1 no. Eggplant Spice mix for chat to taste A pinch Baking soda Vegetable oil for frying Salt to tast
Directions
Cut the eggplant in to round shape
Coat eggplant with garlic paste, salt and ½ tsp of chili powder and let it marinate for 15 to 20 minutes.
Make the batter by mixing the gram flour with baking soda, turmeric powder, ½ tsp. Of chili powder, salt and sufficient water to make a slightly thick batter, mix them very well.
Dip each piece of eggplants into the batter and deep fry in heated oil till it turns golden brown.(fry on medium heat)
Sprinkle some Chaat Masala on it.
Serve hot with green chutney or tomato ketchup.