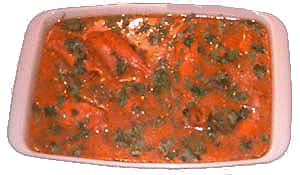 Recipe by Rajiv Anand of Santa Clara, US
A very popular dish in both North and south Indian cuisine. It's very rich and should be taken in moderate quantities by weight watchers.
Ingredients non vegetarian
4 servings
Directions
Mix yogurt, ginger, salt and red coloring and rub into chicken. Let it marinate overnight. Place in an ovenproof dish and brush with oil. Bake in a 375 degree oven for 40-50 minutes. Save the liquid, if any. In a saucepan, melt butter and fry cinnamon, cloves, cardamoms and bay leaf for 1 minute. Add sour cream and chicken liquid. Add crushed saffron, and cream. Cover and simmer gently for 5-6 minutes. Add chicken pieces and adjust seasoning. Add ground almonds. Dissolve cornstarch in water and add to the chicken. Let it thicken. Cover and simmer for 3-4 minutes. Remove from heat.