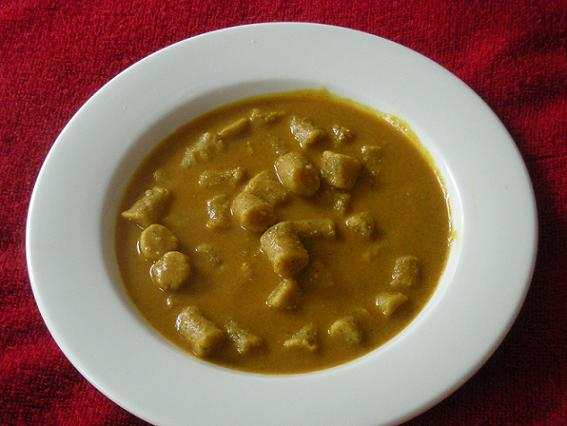 Spicy Curry
Recipe by kirti of , GB
Delicious rajastani dish
Ingredients vegetarian
4 servings
For Gatte
1 cup Besan (Gram flour)
1 pinch baking powder
1 pinch red chilly powder
1 pinch turmeric powder
2 tsp curd
1/2 tsp carom
cumin seeds
coriander leaves
2 tsp oil

salt to taste
For Curry
3 tsp peanuts
1 tsp puppy seeds
2 tsp dried coconut
2-3 bay leaves
1 tsp cumin seeds
1 tsp coriander seeds
1/2 tsp black pepper
1-2 cloves
4-5 tsp oil
1 tsp turmeric powder
2 tsp red chilly powder
ginger-garlic paste 1tsp

salt to taste
Directions
In one container take besan, add cumin seeds, carom, baking powder, oil, curd, salt, chilly & turmeric powder in to it & make a thick dough (if needed add little amount of water )
Divide the dough in to 3-4 pieces.
Roll every piece & cut them in to small capsule like pieces. (these are the Gatte)
Now add these gatte in to the boiled water & allow them to boil up to 10-12min (when gatte boiled properly they will appear on a surface of water)remove the water from boiled gatte & keep then aside.
Roast the peanuts, coconut, poppy seeds,c umin seeds, bay leaves, cloves, black papper , coriander seeds. grind them & make a fine paste of it.(to make paste more fine add little amount of water in it & grind again)
Heat a pan , add oil in it then add ginger-garlic paste & then add ground paste in it.at a first instance this paste absorb entire oil in a pan, keep mixing it.
After 3-4 min, this paste leave the oil ,now add turmeric, chilly powder & salt in it & mix it well with paste.
Finally add water in it to make a curry & let it cook for 2-3min.add Gatte in curry & let it cook for 5 min.remove it from fire & garnish it with coriander leaves.
Generally this dish is serve with 'Daal-Bati'.