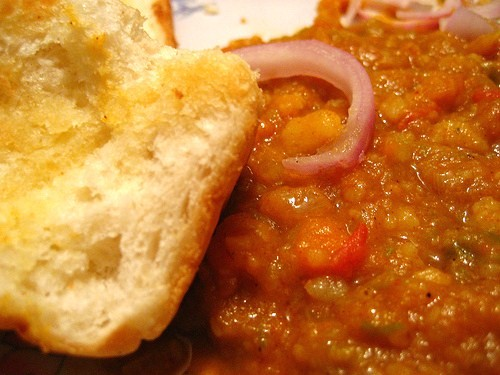 Mixed vegetable curry with dinner rolls
Recipe by Dairyman of Dubai, AE
Many of you have asked how to prepare perfect Pav Bhajis. Here is how I make it. Use whatever vegetables you have in your refrigerator.
Ingredients vegetarian
4 servings
8 nos.

Dinner Rolls

1 no.

Tomato

, chopped
3 nos.

Onion

, chopped
1 no.

Bell pepper

, chopped
1 cup

Potato

, chopped
1 cup

Vegetables

, cauliflower, carrots etc., chopped
½ cup

Peas

2 tsps.

Spice Mix for Pav Bhaji

1 tsp

Chili

, powder
¼ tsp

Turmeric

, powder
½ tsp

Ginger

, grated
½ tsp

Garlic

, crushed
½ no.

Lemon

pinch

Cilantro

, to garnish

Salt to taste

pinch

Vegetable Oil

, to shallow fry
Directions
Set aside 1 chopped onion for garnishing. Cook mixed vegetables, potatoes and peas in a pressure cooker. Don't add too much water while cooking. After the vegetables are done, drain and mash them coarsely. Heat butter (or oil) in a pan and fry onion and ginger/garlic. When onions turn translucent, add bell peppers and tomatoes. Continue frying till it turns soft. Now add Pav Bhaji Masala, chili powder, turmeric powder, salt and fry for another couple of minutes. Now you can add the mashed vegetables. Turn up the heat and continue stirring till everything is well incorporated. Take off the stove when the bhaji is thick. Cut Pavs in half horizontally and lightly coat it with butter. Roast them on hot griddle just before serving. Garnish Bhaji with chopped coriander leaves, chopped onions and a thin wedge of lemon.